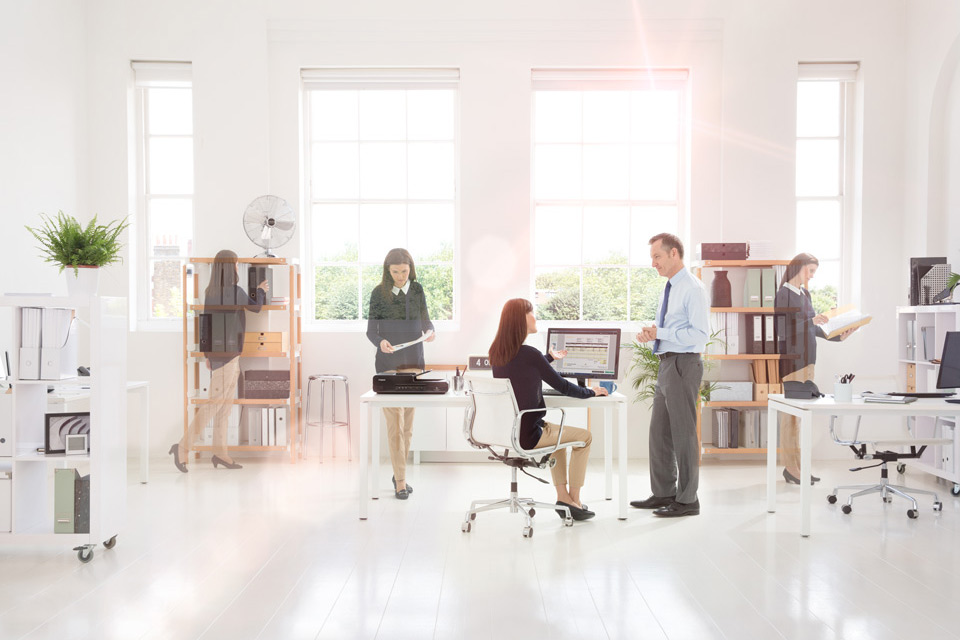 Pocket guide to improving digital workflows with the cloud
Mobile technologies have helped a large number of small businesses to increase productivity and remain agile by enabling them to work remotely, or supporting BYOD1. However the new ways of working also pose challenges for efficiently and securely entering and accessing information into document management systems and workflows.  Whether it's processing legal documents that need to be signed by different departments, or searching for documents that are stored centrally, a lot of time can be wasted if the correct processes aren't in place.
According to a study recently commissioned by Canon, as many as 20% of decision makers in small businesses across Europe spend most of their time on administration, with almost a third of decision makers in SMBs saying they suffer from too much paperwork. 
Cloud solutions are widely recognised as being hugely beneficial to remove these administrative headaches. However despite this, only 11% of SMB business owners surveyed strongly agreed that their organisation understands cloud-based solutions and how they might help their business.
This pocket guide gives insight into how SMBs can benefit from cloud solutions to improve their information management and digital workflows, helping to streamline processes and reduce time and money spent on admin. 
Embrace digital – understand the benefits of digital Workflows
With European small business owners stating that they're spending too much of their time on administration, the time is now to consider how they can best implement technology to help take the pain out of paperwork.
Changing to a digital workflow process for managing paper- based information can save SMBs significant time, improve accuracy and ensure better security of information. For example, digital workflows and electronic record management solutions can help ensure that certain information can only be accessed by authorised people and then approved, managed, controlled in the right sequence. This helps to speed up processing times and decision making, resulting in SMBs being able to focus more time on their customers and other tasks than on administration. 
Furthermore, users away from the office can tap into their smart device "apps" and access their different workflows if they need to quickly approve a purchase order or similar. This would save valuable time, and help improve service and delivery.
Compliance and the cloud – consider how implementing digital workflows can help businesses meet regulatory standards
One of the major concerns small business owners face when it comes to document record management is around understanding compliance requirements; for how long, what format and where do different documents need to be saved? What level of security is required when storing customer financial information? Is it acceptable to store HR information electronically, or does there need to be keep hard copies on site? 
What many small businesses don't realise is that digitising documents and having a clear defined process for scanning, managing and storing the information can in fact be hugely beneficial to meeting compliance regulations. Using cloud applications like Google Drive or Dropbox to host this kind of information can be more suitable. This is because they are cost effective and scalable platforms, especially for start-ups and SMBs. 
By scanning and saving all documents electronically in a secure manner, businesses can help protect themselves from risk of loss of damage of physical copies. Documents can be saved in various destinations such as networked folders, document management systems or cloud based applications. Using defined naming conventions and/or by adding supporting index metadata, will not only improve compliance but also ensure that document retrieval is far easier.
Security concerns with remote working – balance the benefits with the risks
Regardless of whether a team member is located at a neighbouring desk or is working remotely on a laptop or tablet, cloud storage can improve the safety of these online documents. Scan-to-share functionality can help businesses to automatically upload scanned documents and distribute them to the right people and location.  By using permission-based access settings, cloud-based documents can be easily read and edited by specific team members only. Furthermore, this can remove the risk of business critical or sensitive information falling into the wrong hands thanks to hard copy documents being left on trains or lying around in customer meetings rooms.
Once businesses have successfully resolved any security concerns, additional benefits of remote working practices become apparent, such as reducing the cost of physical office space and attracting staff looking for this kind of flexibility.
By considering the steps above, small businesses will not only be in a good position to reduce time spent on admin and improve processes now, but they'll be set up with procedures to support the business as it grows.
For more information on how scanning can help improve small business processes, please visit http://www.canon-europe.com/scanners/.
ili